Akram Al-Sarraj
Biography
I have been creating art & painting since I was 5 years old. I was encouraged and supported by school administration and teachers, and it was their support and push for excellence that fueled my development as an artist.
I studied painting through art books, working one-on-one with professional artists often up to twelve hours a day, and meeting with Mosul's prominent artists. I studied academic art through pencil, water colors, and later with oil. The important topics for me were portraiture, models, nature, and peace.
From 1973 on, I participated in most Art Exhibitions and International Festivals held in Mosul and Baghdad, won numerous awards and received accolades for my work. In 1988, after the Gulf War, I established first privately held Art Gallery in Mosul, AL-Sarraj Art Gallery, a jewel located on the historically famous Nineverh Street. The gallery was expanded to include art school where I taught local and international students, and a music school under the tutelage of a friend and a renowned oud player, Akram Habib.
As the economic siege hit Iraq in 1998, there was no choice but to close the doors of the gallery and for me to move to Jordan in order to provide for my family. I continued to teach painting and to present at Fine Art exhibitions. I also continued to exhibit in Iraq whenever possible and had four personal exhibitions during this difficult time.
Over time, and by observing the wide audience which I came in contact with, it became evident to me that the society was changing and that our attention span was becoming shorter & shorter. People were not taking the time to look closely, to look for a long time and to feel art. It was this realization that led me to develop a style that deconstructs expectations and invites the viewer to be guided by the one facility technology cannot colonize – feeling. As you look at my paintings, you will go where your feelings will take you. One day you look at the painting and see something in it that, as you look at that painting the next day, you might not see, but you'll discover something new – because your feelings changed. I call this style "Sarrajism".
Sarrajism is grounded in vision of color, calligraphy & space. The vibrant, geometric backgrounds are reminiscent of traditional mosaic and stained glass, of Cubism and Modernism. But my style also calls on viewer to contribute to the art work by drawing on viewer's imagination and their own sense of insight. I have been working on this style from 2000 and in 2005 I debuted Sarrajism at a personal exhibition in Amman, Jordan.
By the early 2000, as extremist factions rose to prominence and later aligned with ISIS, life for artists became increasingly dangerous in Mosul. Death threats were slipped under the doors of fellow artists, and in 2007, during my visit back to Mosul, extremists broke into my home, covered my head with a blindfold and set off a small explosive device which obliterated the windows. Scars from flying pieces of glass still crease my face today. In 2011, I left Mosul permanently and have not seen my family since. I was granted refugee status by the U.N. and on October 29th, 2013, came to the U.S., landing in Vancouver, WA with two suitcases and some of my art work.
I now live in Beaverton, OR. My life is filled with hope and determination. I hope for the day my family can join me in the U.S. so we can start a new life together. Without hope, there's no point in living.
My small apartment is filled with art which I want to share with the world. In Art is My Freedom.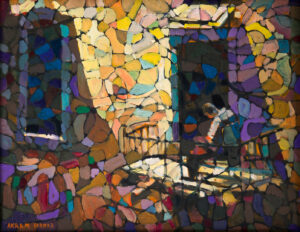 Exhibitions:
Blackfish Gallery | Portland, Oregon | December 2018
N.W.I.P.A. (PMP) | Portland, Oregon | August – September 2018
The Arts Center | Corvallis, Oregon | July-August 2018
Portland International Muslim Cultural Festival | Portland, Oregon | July 2018
The Portland Montessori School, CWSP Project (Mural) | June 2018
Trinity Episcopal Cathedral, Art Exhibition | Portland, Oregon | December 2017
Providence St. Vincent Medical Center | Portland, Oregon | November 2017
7th Annual Arab Festival | Portland, Oregon | September 2017
Gallery 360 | Vancouver, Washington | July 2016
Columbia Center for the Arts | Hood River, Oregon | April 2016
Portland Art Museum, Object Stories | Portland, Oregon | March 2016
Geezer Gallery | Portland, Oregon | 2014
Warm Winter Exhibition | Amman, Jordan | 1998-2001, 2005, 2013
Damascus Art Exhibition | Damascus, Syria | 2010
Personal Exhibitions | University of Mosul | 1993, 1996, 2000, 2007
Personal exhibition | Amman, Jordan | 2005
Iraq Artist Exhibition | Austria & Lebanon | 1998
Various Iraqi Artists Union Exhibitions | Baghdad & Mosul
Akram Sarraj established the first privately owned art gallery in Mosul in 1988, which later expanded its mission to include art education and provided graphic arts, painting, and music classes.
Akram is a member of the Iraqi Artists Guild.